Do you feel like you're spending way too much time on your social media content and not getting much in return? 
Is your content sporadic and without purpose?  
You guys, I am so excited to dive into this three-part series! Are you ready to  "Drive More Traffic"?  I'm going to show you how to repurpose your social media content to be intentional and strategic. Not only will you bring more value to your customers, but social media will not be all-consuming. We all have so many other important things to do, right?? 
"Social media is a work in progress"
I think we can all agree that as business owners in today's day and age, social media is the best, fastest, and cheapest way to get new leads.  Social media holds so much power and that should be one of the main focuses for your marketing strategy. When I think back to growing my business in the early 2000s, social media didn't exist and it wasn't being used for business.  Even though I've been an entrepreneur for 18 years, I fought to get my business on Facebook when it first came on the scene.  I was told to stay away from the possible criticism of customers.  Now, if you don't have a social media presence, you're not going to be in business much longer!  We're still a work in progress because new platforms emerge or our team gets bigger.  Wherever you are with social media in your business, understand it's a work in progress! 

When creating social media content, why can't we have both quality and quantity? Here is my first tip: you can have both quality and quantity by mastering one platform at a time and diversifying the content.
Below I am going to walk you through some mistakes that you are making that might be causing you to sacrifice either your social media quality or quantity. 
Three Mistakes You're Making Right Now
You're Trying To Be Unique For Every Post On Every Platform

– wondering what to post and what to say on each platform is exhausting.
Solution:
Pick a pillar piece of content each week, 20-30 minutes in length.  It could be a blog post, a video, or a podcast.

Take micro-content out (a quote, a video clip, an audio clip, a picture) of the pillar piece to post on different platforms.  

It could be a 3-10 minute pillar piece of content-work with what you have.
No Consistency

– you're dabbling and trying to do it all, posting consistently but then the ball drops.
Solution:
Create a process for repurposing.  Inside of

Monday.com

, the project management software we use at Foot Traffic, we have a step-by-step process of content creation. It starts with the pillar piece and ends with posting the micro content. 

As you build your content system, you document every step in your project management software or write it on paper. You will edit, revise, and edit again, as needed.

No more random posting on Instagram or Facebook without knowing your content system.  
No Strategy

– you aren't using the platforms to

monetize

your time and effort!  Your posts aren't bringing in any leads or sales.
Are you making any of these mistakes? I know it is so easy to fall into those traps! But luckily I have a few solutions for you: 
Hire a social media manager.  This shouldn't be a risky investment!  You want to have someone pouring their time and energy into monetizing your #1 source of leads and sales.  That's a true return on investment.

Check out my podcast about this here

.

Give your audience, your potential customers, your followers something to sample faster.  What do you sell that would be a bite-sized offer for someone to try you out?  In

the Foot Traffic Formula

, I sell high-end programs, but when we launched a much smaller, bite-size product, people jumped at the offer.  It was a "taste test" of the bigger product, which they almost always upgrade to.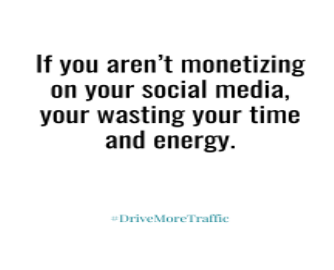 You just spent all this time creating this amazing content for your social media, but now we need to look at reusing and repurposing that content. 
Here are some mistakes that I see a lot of people make when it comes to their social media repurposing strategy: 
One And Done

– you're wasting time and energy by not repurposing your pillar piece of content.

Not Optimizing Your Post

– content that works on Facebook may not work on Instagram or LinkedIn, for example.

Posting All Your Content At The Same Time

– you repurpose your pillar piece of content and post on all the platforms at the same time.
Let's look at ways that we can work through these mistakes:
Make sure to check your analytics to see what's working on each platform. 
Take a quote from your Facebook live and repurpose it for an Instagram post, or clip audio from your podcast for a Facebook or Instagram story.  There are so many possibilities to repurpose!
Stagger days, times, and platforms when posting micro-content.  

You want your followers and customers to see different content at a variety of times across all the platforms.
What is a content machine? Being a content machine is creating systems in your business that allow you to take charge and create social media content! 
There are three main phases of being a content machine, we are going to walk through each phase one by one, 
Phase 1 – You're A Solopreneur 
You still need a content system!  Pick 3 – 5 things to do when repurposing.  The Content Machine™  has a breakdown of what I would do with one or two platforms if I were a solopreneur.
Phase 2 – You + A Virtual Assistant And/Or Social Media Manager
The power of your social media team is priceless.  Your VA/social media manager give you your time back!  It doesn't mean you don't do social media anymore, but you have help. It also means there should be more output of content, as a result.  Instead of 3 – 5 pieces, it could be 5 – 10 pieces.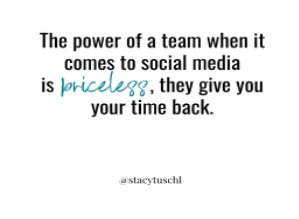 Phase 3 – You're building a Content Machine!
I'm not the social media manager anymore.  I have a team helping repurpose one pillar piece a week with our content creation system in Monday.com. I have a video editor, a graphic designer, caption and copywriter, ad manager, etc.  
Where do I start?
Now it is time to answer one of the hardest questions, where do you even start? 
Organic traffic can feel painfully slow if you don't have a Facebook or Instagram ad budget.  You have to make sure you're only doing the strategies that are going to speed that up! 
 The Content Machine™ is designed to help you reach your goals and become a content machine! Here's what I want you to know about The Content Machine:
 It is our step by step process of taking one piece of your pillar content and turning it into micro-content for the entire week!  I'm sharing the exact board that we are using in

Monday.com

.  Whether you're a solopreneur or you have a social media team, this is for you!

If you're using your own project management system of choice, you'll still be able to apply the strategies to your business.  

We are throwing in SIX bonuses as well!  You'll get 30 compelling headlines for going live, podcasts, posts or emails. That's 30 strategies with examples of how you can utilize it!
I want you to go make social media feel fun, and engaging and get your business thriving! So here's to creating a repurposing strategy that saves you time on social media and gives you more time to get back to doing what you do best!